Four Hands Body Renewal
2408 Cramer Street

Terrace BC V8G 4H9
250-638-2090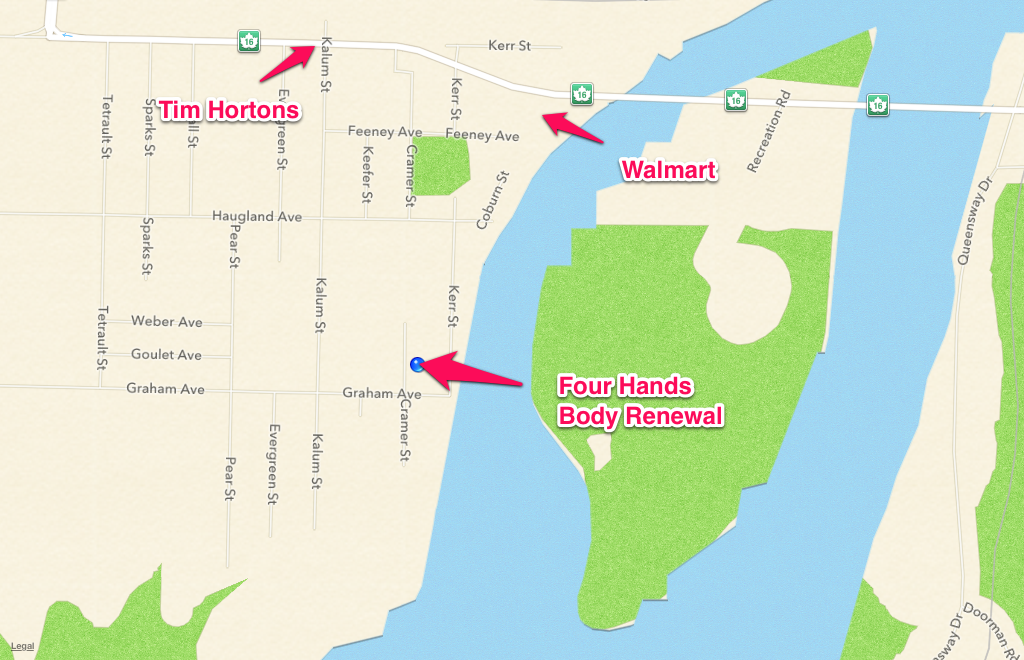 Open Tuesday to Saturday
Closed Sunday, Monday, and Holidays
(Except for Emergencies)

We have evening appointments!

Effective immediately.

Due to an unusual amount of 'No-Shows'
we will require 1st time clients to prepay for their appointments and we are also forced to now charge for missed appointments.
Please see the 'Contact Us' for more details.

Because It Works!
That's our slogan at Four Hands Body Renewal.

Many of our clients show up here saying they
can't take the shoulder, neck, leg, hip or back
pain anymore. They tell us they've tried it all and nothing worked. A friend told them to try us out...can we relieve muscle or nerve pain?
Well we sure try hard, so much so that in the 24 years we have been in business our clients have been able to gain enough trust in our abilities that whole families are now coming to us.
We are gaining new clients all the time from the
best advertising - word of mouth - and long

term clients continually pop in for tune-ups
because they love the work and they never

fail to tell us
Because It Works!
Some people think we do Deep Tissue Massage, Back Pain Massage and Neck Massage in our Pain
Management work but it is much more than that! The therapeutic benefits from working on tight tissue in a structured process is what Rolfing® is known for.
We also will work with Doctors, Chiropractors,

Acupuncturists, Physiotherapists, R.M.T.s and other healthcare practitioners if needed to enhance the
well-being of the clients that come to us.

Links
External Links Note-Content not controlled by

FourHands
These links will take you to where we received our
trainings initially and attended workshops sponsored
by these schools. There is more detailed information
about the work we do on their websites and also you
can find practitioners all over the world by using their
'Find a Practitioner' search engines.
Rolfing Canada®

The Rolf Institute®
The Upledger Institute
The Guild of Structural Integration
Feedback
We encourage and appreciate feedback. Please see the form on the Contact Page.
Gift Certificates
are available for all our services.