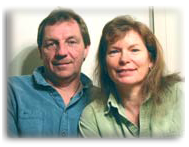 Dean and Sue Bergstrom are the team of Four Hands Body Renewal. The name reflects the partnership this husband and wife are known for. They arrived on the Queen Charlotte Islands in 1977 as newlyweds.

Dean worked for many years as a logger and when their 2 sons started school, Sue began working in the school district in Queen Charlotte City. Dean continued logging but his interest in working with people led him into First Aide and becoming part of the Volunteer Ambulance Team.

Dean and Sue chose to pursue Rolfing® and Massage careers based on personal experience of the Rolfing® process. Dean received a number of injuries while logging, particularly back and hand injuries. Rolfing® bodywork enabled Dean to return to work and has been a lasting correction for his injuries. This experience became his inspiration for pursuing the training. After receiving many massages from Dean, Sue chose to pursue Skillful Touch Massage to provide clients with a quality massage that provides more than just relaxation. Since both Dean and Sue have their training from the Rolf Institute® it makes it very easy to transform an appointment into a four handed experience. After traveling for 7 years working from a converted motorhome, Dean and Sue moved to Terrace to open Four Hands Body Renewal in 2005.

The team approach of Four Hands Body Renewal is ideal for providing well-rounded treatment levels for those seeking relief and improvement in their physical well-being. Dean and Sue continue to develop new skills and accreditations. Sue has added CranioSacral Therapy and Pregnancy Massage and Dean has added Visceral and Scar Manipulation and Horse Rolfing to their growing list of competencies. Their education is ongoing.